ADVANCED DOG TRAINER (PARENTAL LEAVE - 6 MONTHS) | POSITION FILLED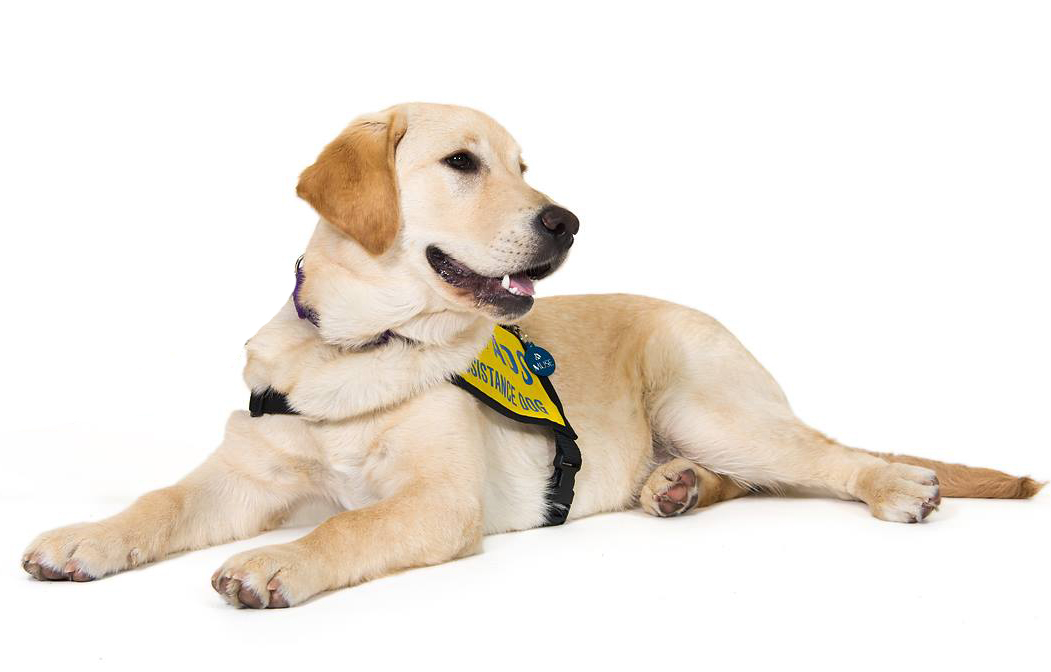 POSITION OVERVIEW
Reporting to the Training Program Manager, the Advanced Dog Trainer assists the Advanced Training team with training assistance dogs, developing skills and making placements with clients. The Advanced Dog Trainer is responsible for the training of adult dogs, the training under the direction of the Training Program Manager.
The Advanced Dog Trainer assists the Training Program Manager with a cohort of approximately 4-6 dogs and the volunteers (raisers/sitters) associated with them.
The Pacific Assistance Dogs Society (PADS) is changing lives, one dog at a time. We are dedicated to breeding, raising, training and placing assistance dogs for persons with a mobility disability, or who are deaf or hard-of-hearing. We place accredited facility dogs (AFD) with professionals and PTSD service dogs for veterans with PTSD. We support these client and dog teams for the working life of the assistance dogs. PADS is based in the Metro Vancouver region of British Columbia, Canada with regional offices on Vancouver Island, Calgary, and the Okanagan. Our team of employees, Board members, and volunteers is passionate about giving persons a "new leash on life" with assistance dogs who will help to give clients greater independence and a better quality of life.
PADS' training philosophy is relationship centered, and based on current, evidence-based training methods and follows a Least Invasive Minimally Aversive (LIMA) approach. PADS Trainers teach advanced sitters the skills they need to teach their advanced dogs in the area of Skills, Manners and Socialization. PADS Trainers teach clients how to follow the LIMA principles when working with their client dogs.
MAIN RESPONSIBILITIES
Canine Training [50%]
Provide support to the Training Program Manager with exercising, toileting and handling of assigned string of advanced dogs. Assist with introduction or continuation of training of initial obedience cues, behaviour and duration of obedience.
Draft and maintain training records for assigned string of advanced dogs, ensure up-to-date, accurate and complete records.
Assist with the handling and assessment of dogs to determine if they are a fit for PADS program, this includes but is not limited to:

Updating the Training Program Manager on the dogs's progress and providing details regarding strengths and weaknesses of the dog
If required, submitting for the release of a dog based on behaviour seen during trainings and other reports.
If release is approved, inform the Puppy-Raiser if the dog has been released from the program
Provide recommendations to the Training Program Manager for future placement of released dogs

Assist training staff with field trips and training tasks for PADS dogs
Assist the hearing dog program trainers with warm up, door knocking, smoke alarm and other training opportunities as required.
Teach introduction to advanced skills to dogs as assigned
Learn and comply with PADS' procedures to meet ADI minimum standards and ethics for training, placement and use of assistance dogs
Canine Grooming, Husbandry and Care [15%]
Participate in grooming and medical care of advanced dogs as required
Transportation of dogs to and from field trips, vet visits and volunteer homes as required
Kennel and Yard Maintenance [15%]
Assist the Kennel Technician with dog feeding, toileting routines, kennel cleaning and maintenance as required
Assist the Kennel Technician with campus clean up and maintenance (snow removal, leaf removal, garbage pick-up, etc) as required
Clerical and Administrative Duties [20%]
Attend and participate in weekly meetings with Advanced Training team to keep up to date on progress of the dogs, industry trends and provide insight and ask questions. Take notes if assigned.
Participating in educating the public about assistance dogs and the legal rights of people with disabilities who are partnered with them.
Maintain accurate training records and file on E-Tapestry, Monday.com & IWDR for all Burnaby campus advanced dogs.
Provide Advanced Training Updates for Burnaby campus, this includes

Blue vest and 'I've Got a Vest' photo – Coordinate and complete the photo and update Monday.com board
Updates regarding 'Turn In' Dogs at Burnaby campus
Providing "pupdates" for string of dogs

Provide sitting for advanced dogs as needed, if possible
Assisting with planning and conducting outreach events, as required.
Required to work with extremely confidential client information and materials, must maintain a high degree of confidentiality when delivering with clients.
Participate in media requests including audio/video, as required.
Performing other related duties and responsibilities, as required.
The duties and responsibilities listed in this job description are not a comprehensive list. It is reasonable for the employee to expect that additional tasks may be assigned from time to time. In addition, the scope of the duties and responsibilities listed here may change as necessitated by PADS changing needs.
WORKING CONDITIONS
Physical Effort
This job position involves some physical tasks and requires working outside in all conditions.
Ability to walk 4-6km's per day to walk the dogs or volunteers
Use of arms and hands, ability to grip a leash and administer treats.
Have the ability to lift dogs ranging  between 50-70 lbs
Physical Environment
This position is located at the main PADS campus in Burnaby.
Ability to work off site for team trainings as required.
This position works in shared work space and equipment with other employees and volunteers at PADS' facilities and other training locations.
There is interaction and physical contact, with puppies and dogs in training for certification–as assistance dogs. There is occasional contact with certified dogs and clients.
Sensory Attention
There is daily interaction, and physical contact, with dogs that are in the Advanced Training Program
Required to be visually aware of stress signals that dogs might be presenting
Ability to hear if there is barking, growling, whining from the dogs
Dealing with dog bodily fluids on a regular basis
QUALIFICATIONS & SKILLS
Technical Qualifications
Ability to teach and implement training plans with dogs based on PADS training protocols with the support of your Manager or Supervisor
A familiarity with canine terminology, medical requirements, psychological and social factors would be beneficial
Efficient use of PCs; the Internet, Zoom; and MS Word, Excel, and Outlook. Ability to learn new software as required
Valid BC or AB Driver's License, depending on province of work, at a minimum level of Class 5, use of vehicle may be required on occasion
Previous experience working (personal or professional) with animals is required.
Ability to work a flexible schedule when and if required.
Behavioural Qualifications
Demonstrated calm under pressure and ability to have compassion and support volunteers during a stressful time.
Organized, professional, a good communicator (verbal and written), a lifelong learner, and resilient in the face of stress and change.
Effective time management and able to balance competing priorities.
Solid record of having engaged in positive, productive working relationships.
High level of earned trust, maintain high degree of confidentiality when dealing with client information and requires sound judgment in conduct and interactions.
Ability to learn the use of trauma informed practices with clients, volunteers and staff
Demonstrated interest in learning new training techniques
Demonstrated capability in problem-solving, reasoning, and organizational skills
EDUCATION & EXPERIENCE
Previous experience with dog training or grooming is an asset
A combination of skills is essential including knowledge and basic experience in canine learning theory including canine behaviour, general health care and safety, knowledge of canine nutrition, anatomy and physiology
Working knowledge of adult education and demonstrated skill for teaching adults
Previous experience and demonstrated ability to clicker/marker train
Previous experience working in a busy, noisy, fast paced environment is required.
Proven success in a role where you had to be coached and develop new skills specific to the role
Previous experience working with diverse population with varying abilities and needs is preferred
High school diploma is required
Basic working knowledge of disabilities specific to PADS clients, including: familiarity with terminology, medical requirements, and psychological and social factors
Formal dog training education is preferred (e.g. Karen Pryor Academy, Jean Donaldson Academy, The School of Canine Science, Absolute Dogs Pro Dog Trainer, Grisha Stewart Behaviour Adjustment Training)
DOES THIS SOUND LIKE A FIT FOR YOU?
If you think you are a good fit for our organization and are interested, apply by filling out the form below and uploading a resume and cover letter! We thank all applicants who apply; however, only those chosen for an interview will be contacted.
APPLY NOW
Applications are now closed.