Raise a puppy.
Change a life.
ABOUT PADS
Pacific Assistance Dogs Society (PADS) breeds, raises and trains fully certified assistance dogs. Our service (mobility & PTSD) and hearing dogs provide life-changing independence to those with physical disabilities other than blindness. Our accredited facility dogs work with community professionals, such as teachers, RCMP and psychologists to help support healthy communities.
MEET OUR MOVERS: TEAM Bikes and Beers How they are Moving for PADS When we were deciding how we wanted to MOVE for PADS, we looked at what other people were doing, and it was pretty intimidating how ambitious they are! We aren't exactly spring chickens, so we decided...
read more
PADS is more than 90% volunteer-driven 
we thrive off the passion of the people who have decided to join the PADS Family.
PADS currently runs volunteer programs in the BC Lower Mainland & Okanagan as well as in Calgary, AB., and is a fully accredited member of Assistance Dogs International.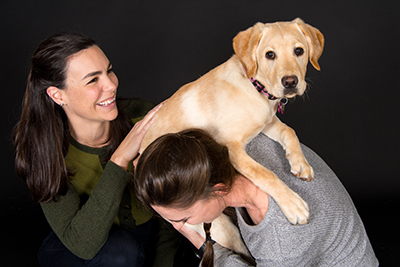 FOLLOW OUR ADVENTURES
Our pups are always adventuring. Follow along each month to see what they're up to and how they are doing!
In August I turned 10 months old! I think it might've been the best month so far. I went paddle boarding (which I like much better than swimming) and got to go camping - do you know how awesome sleeping in a tent is? AFD Hero came to hang for a few days and we went on...
read more
Simone is well mannered and she likes everyone.  August has been interesting with some boating, outdoors fun, and enjoying the sunshine. Submitted by: Peterson Family
read more