Raise a puppy.
Change a life.
ABOUT PADS
Pacific Assistance Dogs Society (PADS) breeds, raises and trains fully certified assistance dogs. Our service (mobility & PTSD) and hearing dogs provide life-changing independence to those with physical disabilities other than blindness. Our accredited facility dogs work with community professionals, such as teachers, RCMP and psychologists to help support healthy communities.
PUBLIC STATEMENT: COVID-19Last Updated: June 1, 2020 - 8pm The management and leadership of Pacific Assistance Dogs is wanting to share that we are treating COVID-19 pandemic with seriousness, without unduly restricting the important work PADS is doing. As an...
read more
PADS is more than 90% volunteer-driven 
we thrive off the passion of the people who have decided to join the PADS Family.
PADS currently runs volunteer programs in the BC Lower Mainland & Okanagan as well as in Calgary, AB., and is a fully accredited member of Assistance Dogs International.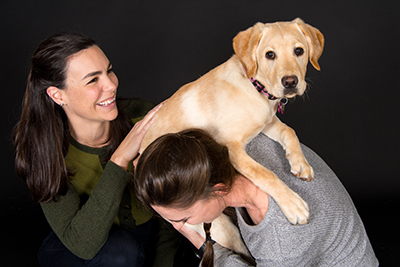 FOLLOW OUR ADVENTURES
Our pups are always adventuring. Follow along each month to see what they're up to and how they are doing!
MARA is working away on all her skills and refining her retrieve. Now that COVID-19 restrictions have started to gradually ease up, she is going out on short field trips with Ashley to practice all her skills in new environments. Some of these places can be very busy...
read more
We are very excited to announce that SASSAFRAS has been matched with a client and started team training at the end of June. Due to COVID-19, Team Training formatting has changed. This means as much as possible will be done with video conferencing and then when it is...
read more