Raise a puppy.
Change a life.
ABOUT PADS
Pacific Assistance Dogs Society (PADS) breeds, raises and trains fully certified assistance dogs. Our service (mobility & PTSD) and hearing dogs provide life-changing independence to those with physical disabilities other than blindness. Our accredited facility dogs work with community professionals, such as teachers, RCMP and psychologists to help support healthy communities.
PADS Caber, placed with Kim Gramlich, Coordinator at Delta Police Victim Services in 2010.  Since then to say he's had an enormous impact, both in the people he directly serves and the Justice Facility Dog industry in Canada would be an understatement.  Today, Caber...
read more
PADS is more than 90% volunteer-driven 
we thrive off the passion of the people who have decided to join the PADS Family.
PADS currently runs volunteer programs in the BC Lower Mainland & Okanagan as well as in Calgary, AB., and is a fully accredited member of Assistance Dogs International.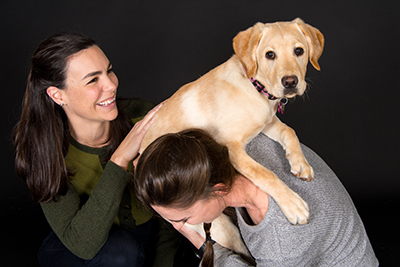 FOLLOW OUR ADVENTURES
Our pups are always adventuring. Follow along each month to see what they're up to and how they are doing!
Caring Dune: I had a reaction to a flu shot and went to bed one afternoon for a rest/nap. Dune positioned himself on the floor next to the bed and also napped. After about an hour, I felt a gentle, warm breath on my nose. When I opened my eyes, there was Dune with his...
read more
With fall comes the start of Hockey, lovely walks in the fall leaves and Halloween! Fuji spends lots of time at the Hockey arenas in the fall and winter, he has also been enjoying many outings polishing up on is cues and practicing his durations commands, we also...
read more