Raise a puppy.
Change a life.
ABOUT PADS
Pacific Assistance Dogs Society (PADS) breeds, raises and trains fully certified assistance dogs. Our service (mobility & PTSD) and hearing dogs provide life-changing independence to those with physical disabilities other than blindness. Our accredited facility dogs work with community professionals, such as teachers, RCMP and psychologists to help support healthy communities.
PUBLIC STATEMENT: COVID-19Last Updated: March 19, 2020 - 11PM The management and leadership of Pacific Assistance Dogs is wanting to share that we are treating COVID-19 pandemic with seriousness, without unduly restricting the important work PADS is doing. Due to...
read more
FOR IMMEDIATE RELEASE: It is with great disappointment we announce the cancellation of this Saturday's For the Love of Dog Gala. Late this afternoon, BC Health Officials encouraged organizers to cancel events over 250 people.   The health and well being of our people...
read more
PADS is more than 90% volunteer-driven 
we thrive off the passion of the people who have decided to join the PADS Family.
PADS currently runs volunteer programs in the BC Lower Mainland & Okanagan as well as in Calgary, AB., and is a fully accredited member of Assistance Dogs International.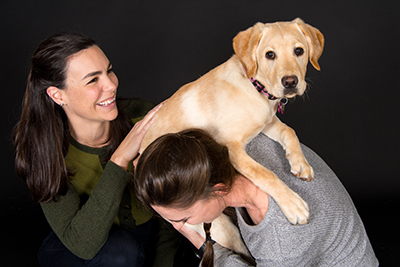 FOLLOW OUR ADVENTURES
Our pups are always adventuring. Follow along each month to see what they're up to and how they are doing!
Where to begin! February was so short! I packed in a lot of fun activities, places, training and new friends!See, when you're a dog with a job, you get to explore your surroundings, new people, new dogs, new smells, new places, and new things! All while practicing...
read more
WINNIE is continuing to improve in her retrieve grip and duration carry work. She is now working on good grip and carry on various items and dumbbell weights as well as working on how to pick up trickier objects. On PADS campus Winnie is practicing her skills next to...
read more