ABOUT PADS
Pacific Assistance Dogs Society (PADS) breeds, raises and trains fully certified assistance dogs. Our service (mobility & PTSD) and hearing dogs provide life-changing independence to those with physical disabilities other than blindness. Our accredited facility dogs work with community professionals, such as teachers, RCMP and psychologists to help support healthy communities.
meet our feature pups Cover (shown above): PADS Sunshine | Geoff Lister January - Cadet II BIll Ng February - Star Ty Brooks March - Elfin Beth Holbrook April - Marley & Minnie Katelyn Fuchs May - Cannoli Nicole Schnapp June - Tommy Ryleigh Jacobs July - Wilbur...
read more
PADS is more than 90% volunteer-driven 
we thrive off the passion of the people who have decided to join the PADS Family.
PADS currently runs volunteer programs in the BC Lower Mainland & Okanagan as well as in Calgary, AB., and is a fully accredited member of Assistance Dogs International.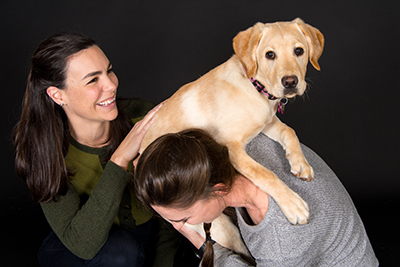 FOLLOW OUR ADVENTURES
Our pups are always adventuring. Follow along each month to see what they're up to and how they are doing!
MALLEE has been spending the month sharpening up skills in preparation for heading out of advanced training and making her forever match. She is working on tasks like deep pressure and is taking her current skill set on the road so that we can ensure that she will be...
read more
SUNNY II and his new partner have completed Team Training and are working through their 45-day probation period and when that is complete, they will officially be members of the PADS 2019/2020 graduating class! Sunny's trainers Ashley & Margaret are very grateful...
read more