Outlet: Kimberley Bulletin Date: October 3, 2023 Author: Paul Rodgers
read more
PADS is more than 90% volunteer-driven 
we thrive off the passion of the people who have decided to join the PADS Family.
PADS currently runs volunteer programs in the BC Lower Mainland & Okanagan as well as in Calgary, AB., and is a fully accredited member of Assistance Dogs International.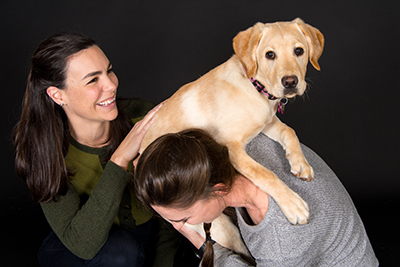 FOLLOW OUR ADVENTURES
Our pups are always adventuring. Follow along each month to see what they're up to and how they are doing!
Piper IV is wondering what happened to the warm weather and sunshine. Why is so much water falling from the sky? And why is there slippery, crunchy, cold stuff on the ground some mornings? Brrr! Luckily, Piper loves water, and not much fazes her; aside from the very...
read more
It's been my first full month with Rimbey and she's already one of my favourites. Rimbey gets along well with other animals and loves going for walks around the local school where she can pose on the rocks. Rimbey spent some time with a foster family and has come back...
read more