Raise a puppy.
Change a life.
ABOUT PADS
Pacific Assistance Dogs Society (PADS) breeds, raises and trains fully certified assistance dogs. Our service (mobility & PTSD) and hearing dogs provide life-changing independence to those with physical disabilities other than blindness. Our accredited facility dogs work with community professionals, such as teachers, RCMP and psychologists to help support healthy communities.
Our Dear friend Bill Brown—who many of you will remember as our fabulous auctioneer from our For The Love of Dog Gala—is turning 60 on May first! For his birthday this year, he has graciously offered to help raise matching funds towards the purchase of a fully...
read more
FOR IMMEDIATE RELEASE: It is with great disappointment we announce the cancellation of this Saturday's For the Love of Dog Gala. Late this afternoon, BC Health Officials encouraged organizers to cancel events over 250 people.   The health and well being of our people...
read more
PADS is more than 90% volunteer-driven 
we thrive off the passion of the people who have decided to join the PADS Family.
PADS currently runs volunteer programs in the BC Lower Mainland & Okanagan as well as in Calgary, AB., and is a fully accredited member of Assistance Dogs International.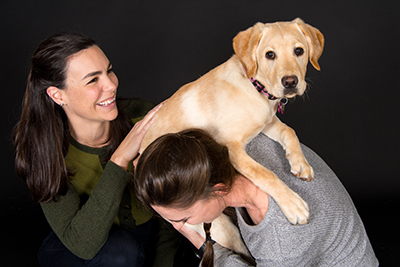 FOLLOW OUR ADVENTURES
Our pups are always adventuring. Follow along each month to see what they're up to and how they are doing!
Esme kicked off the start of July by celebrating Canada Day at a lake. She hasn't swam since last summer and boy did she miss the water. She also visited Science World and explored the exhibits at a safe physical distance from the other guests. She is also working on...
read more
Time flies when you are having fun! At least that is what my hoomans tell me, if that is the case then I am having a blast! At the start of the month I went to school several times with PADS sitter Fiona. I quietly settled in her class, listened to student...
read more