October 16-22 is Invisible Disabilities Week – at PADS we have many clients that fall in this category. We caught up with one that is close to home, our client (and PADS Communications Manager) Tara to share a few thoughts on some of the unique challenges of having an (often) invisible disability.
read more
PADS is more than 90% volunteer-driven 
we thrive off the passion of the people who have decided to join the PADS Family.
PADS currently runs volunteer programs in the BC Lower Mainland & Okanagan as well as in Calgary, AB., and is a fully accredited member of Assistance Dogs International.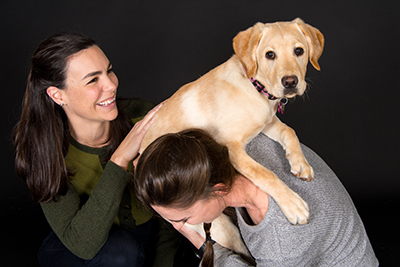 FOLLOW OUR ADVENTURES
Our pups are always adventuring. Follow along each month to see what they're up to and how they are doing!
Wroxy's taken some more time away from the kennel to relax, and her legs are looking much better. She's had some areas of her face get a bit puffy recently, so she's on some medicine and rest. Wroxy is on the mend and in good spirits. She's enjoying lots of long naps...
read more
Welcome, Benny! Three-month-old Benny came to our home in the middle of November and was greeted by Ky, a 15- month PADS pup. Benny became Ky's little brother, learning the most important aspects of doggy life, including where the food comes home (the closet), how to...
read more