Raise a puppy.
Change a life.
ABOUT PADS
Pacific Assistance Dogs Society (PADS) breeds, raises and trains fully certified assistance dogs. Our service (mobility & PTSD) and hearing dogs provide life-changing independence to those with physical disabilities other than blindness. Our accredited facility dogs work with community professionals, such as teachers, RCMP and psychologists to help support healthy communities.
Sunday, September 8th saw a lively crowd gathered for a block party in the parking lot of the renown Gabi & Jules pie shop in Port Moody.  The fundraiser was the brainchild of owners Lisa and Patrick Beecroft, who are both committed to giving back to the...
read more
PADS is more than 90% volunteer-driven 
we thrive off the passion of the people who have decided to join the PADS Family.
PADS currently runs volunteer programs in the BC Lower Mainland & Okanagan as well as in Calgary, AB., and is a fully accredited member of Assistance Dogs International.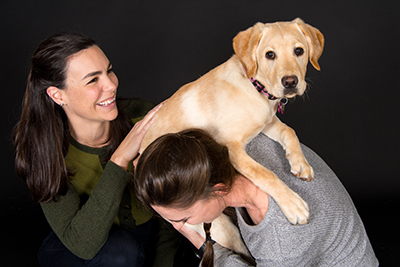 FOLLOW OUR ADVENTURES
Our pups are always adventuring. Follow along each month to see what they're up to and how they are doing!
TRUFFLE and her new partner continue to work through a gradual team training schedule after their first few weeks of Team Training this month. Once they have completed team training, they will work through their 45-day probation period. When that is complete, they...
read more
VESPER has been working on maintaining and further refining all the skills she has learned so far in advanced training. She has also been practicing and sharpening her basic obedience cues and default behaviors such as 'leave it'. Prior to increased social distancing...
read more