Meet Drift and his partner Corrie. Together they do amazing work with youth and families effected by substance use.
Drift was whelped, raised and attended advanced training all in the West Coast region. His village includes his whelping home, the Doherty-Dong family, his Puppy-Raisers Avril and Doug, his Advanced Sitters Jacee and Frances, his sponsors NAV Canada, many PADS staff and all the people who supported him along his journey to meet his client. Throughout puppy-raising Drift was known for his sweet, soulful and caring demenour. He is now using those gifts to bring calm to those around him. Don't get us wrong though, he is still a fun-loving pup who loves to turn on the wiggles to make people smile.
Go do amazing things Corrie & Drift and congratulations to all involved in #TeamDrift.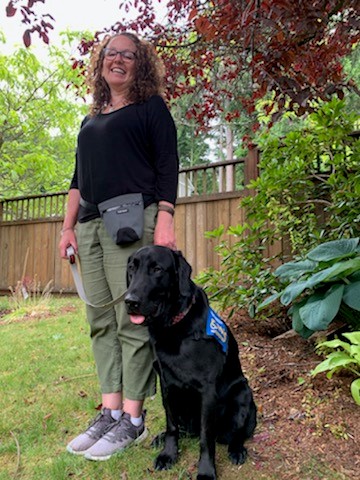 Drift's Pupdates
To read more about Drift's Journey throughout puppy-raising check out his Pupdates below.
Help us Place more dogs like Drift
We couldn't do what we do without the support of people like you. Learn how you can help change lives!