This week PADS Tetley joined our community. Her naming sponsor, Jessica Ferrari, is one of our dedicated volunteers. Jessica shares her volunteer journey thus far with PADS, and how little Tetley got her name: 
"In 2017 PADS Damon joined the First Nations Health Authority (FNHA) and shortly after seeing what a huge impact Damon had within the Indigenous communities while on his visits, as well as the sharp uptick in staff morale within our office structure, I decided to investigate further "how to be a volunteer" by attending an in-person orientation session.  Not long after the session I became a full-fledged PADS volunteer on the waitlist to becoming a Puppy-Raiser.   
Just before Christmas 2017, PADS Memphis, an 8-week-old black lab female, joined our family for the first 2 months of her training journey.  In late January 2018, Memphis moved to a new Puppy-Raiser and a brand new 8-week-old yellow lab male, PADS Patchouli, was hulked into my arms to start his training journey. I say hulked, because Patch—as he was better known throughout his training career—was a big boy in an even bigger "dogsuit" (my affectionate name for any dog with a lot jubbly rolls of extra skin!).  Patch and I had amazing adventures and spent 2 years together before he chose the life of Riley, becoming a SuperPet. 
Patch now exceeds at all things with his forever family; living part time in Whistler, he does long hike mountain adventures, paddleboarding, and even plays golf!  As a retired dog-in-training, he still practices many PADS skills including exemplary shopping behaviour as his family keeps me informed of how he always gets comments and compliments when they go into places like Eddie Bauer, MEC, and other dog friendly establishments.  I'm very proud of the work we did as a team and my growth as a person, learning to be more conscientious and empathetic to those living with disabilities.   
After Patch, I moved into the PADS volunteer roles of Puppy-Sitter and Whelper-Helper. One of my new found PADS friends, Tiff, whelped her first litter of puppies in the fall of 2021; the Lord of the Rings litter. I was so taken by the litter theme and by the heart, energy, and care put into the puppies by Tiff and her family, I knew I just had to sponsor one of the puppies. PADS Samwise is "my dude". He is currently displaying lots of poise, energy, determination and aptitude in his training. He lives just 20 minutes from my house and I get to hear about his progress often.   
PADS evaluates volunteer experiences and allows volunteers to explore many roles within the organization; from office work to grounds work, from hands-on breeding to raising, and advanced training experiences, from one-time sponsorship to legacy philanthropy. 
PADS constantly assesses best training practices to produce the most successful dogs.  Using the global ADI conglomerate of dogs and science of breeding, PADS is able to facilitate and offer a diverse and dynamic cross section of service dogs to suit our diverse and dynamic clientele. PADS is an organization that thrives on evolution and change. It's this strong progressive mentality that keeps me volunteering with the organization in as many ways as I can.   
In December 2021 I lost my beloved grandma, Elizabeth Tailford, at the age of 101. She had met so many of the dogs I raised, puppy-sat, and "stole away in my purse for the day" just to cuddle". In her last few months of life, she entered a nursing home. I brought several dogs in to see her; all of them brightening not only her day but enriching the lives of the other patients as well. I feel that such a great woman deserves to live on in as many memories as I can muster, which brings me to my naming sponsorship of PADS Tetley.     
We choose the name Tetley to honour my grandmother as the secrets to her longevity were a hot "cuppa" Tetley tea, cold toast with hard butter, and giving herself a 2-hour task to do every day.
My family hopes that PADS Tetley will grow up to be a dog that exemplifies her name; providing warmth, consistency, and inspiration all while being spoiled rotten. Or as Grandma used to insist:
"You're not spoiled, just well loved." 
The staff at PADS would like to thank Jessica for her many years of dedication to our programs and to her family for their continued support of our PADS Puppies-in-Training program.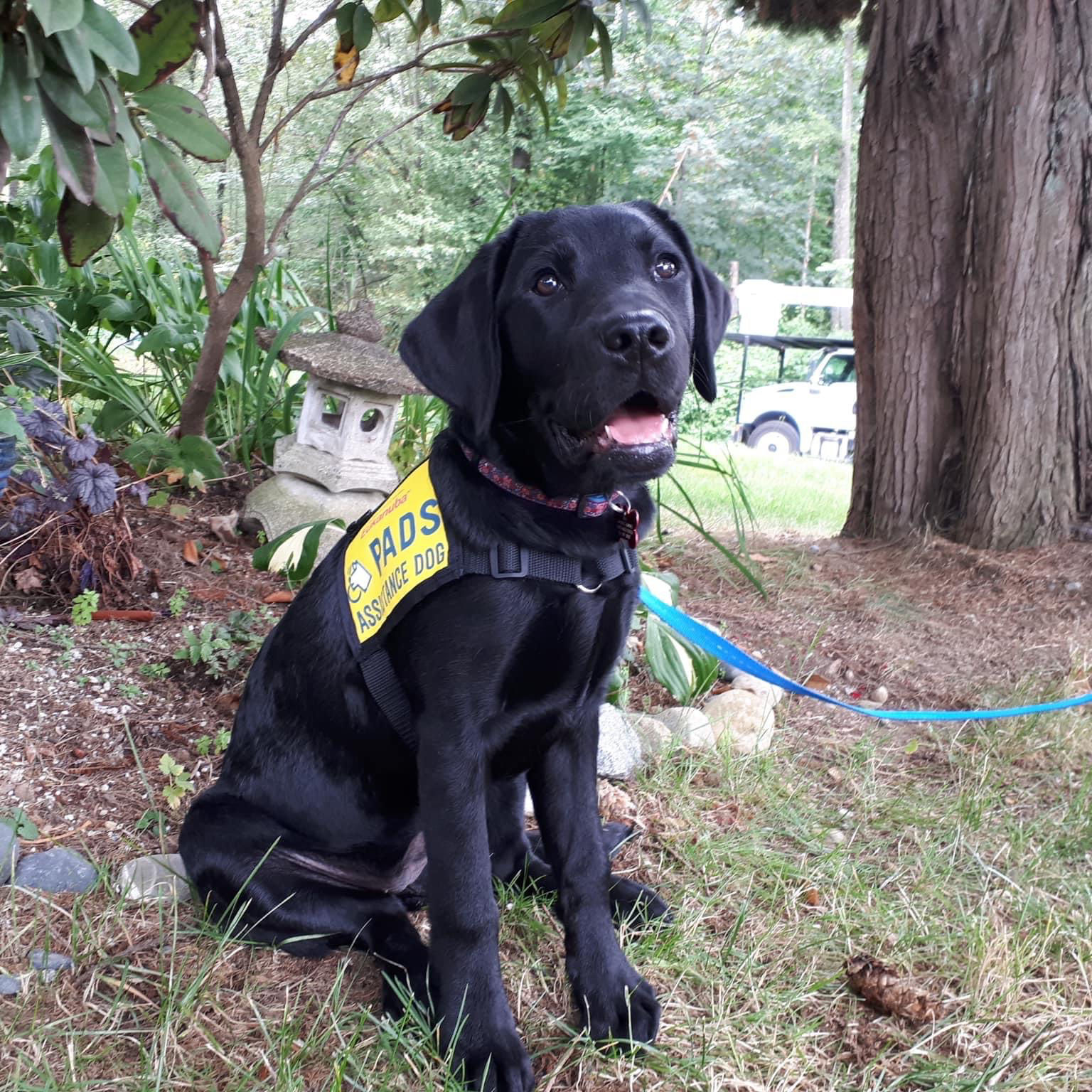 Facts about Jessica's Grandmother Elizabeth Tailford
She's in English medical journals as the first person to survive an experimental surgery in search of a cure to a rare blood disorder.

 

Was in WWII as part of the ambulance service.

 

Snuck away from my aunt's wedding to have drinks with Dean Martin rather than listen to wedding speeches.

 

Made the best pastry and lemon meringue pies. The secret to amazing pastry being "cold hands and a warm heart", she always said.

 
Help us raise more Assistance Dogs
We couldn't do what we do here at PADS without the amazing support of our amazing donors. Click the link below to find the way that works best for you.