Update from the PADS Breeding Department
by Jackie Clark
The PADS community often jokes about "puppy tsunamis", those times once or twice a year when there will be a whole cluster of litters born together. As the PADS Breeding Manager, I like to argue that unlike real tsunamis, which are devastating and strike without warning, these bountiful periods are more like the big wave in a set – we can see them coming as we plot out our cycles across the year. Why is this?
CANINE HEAT CYCLES
This isn't by human design, dogs are adapted to cycle at the same time to promote communal puppy rearing – a female doesn't even need to be bred to experience lactation and mothering urges – so that females can step in to help raise each other's puppies. Even though we've domesticated dogs, and few have the opportunity for group rearing, this biological evolution remains, this week we experienced this in action – keep reading!  
Hot Tip: If you keep an eye out, you'll notice the next big cluster of litters will arrive around April 2023.
IT'S BEEN A REALLY HARD WEEK FOR OUR COMMUNITY
We'd like to start off by assuring everyone, all four of our breeding mamas are home safe and sound with their puppies. 
While we pride ourselves on being exceptional stewards of the dollars our donors give to our program, the one area where we never debate spending is on the health and welfare of our dogs. Successful outcomes for our broods is the top priority of the Breeding Program, and we have policies and procedures in place to ensure that their well-being is prioritized above any other considerations. These dogs are not just part of our breeding program, they are beloved members the families that care for them (our volunteer Breeder-Caretakers) and our PADS community. That being said, each and every litter welcomed in the last week involved complications and loss. 
Three of our four expecting broods went to emergency C-section, and our one natural delivery was also complicated. Sadly, we also lost some puppies. It's important to note that PADS averages only has 1-2 c-sections per year, so to have 3 out of 4 was surprising and challenging both emotionally and financially.
They weren't connected in any way we can identify – and while we're talking to our expert colleagues to ensure that's the case, it's most likely simply a case of bad luck. Each of our of whelps this week presented with different challenges.
Lucy welcomed 6 puppies via c-section on September 3rd. Unfortunately, one of the puppies that was weak at birth didn't survive.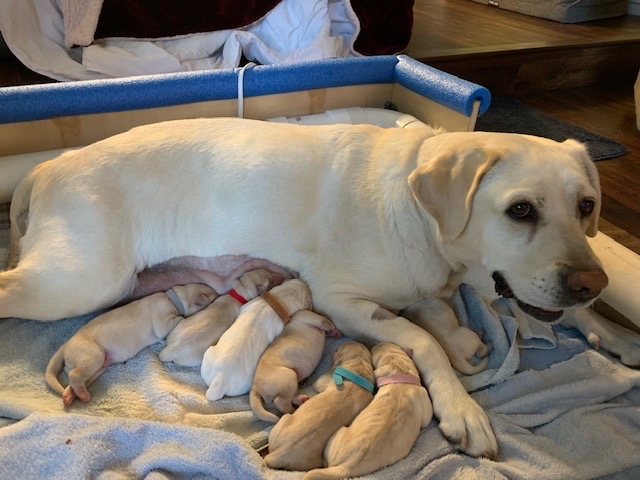 Izzie welcomed 7 healthy puppies via c-section on September 7th.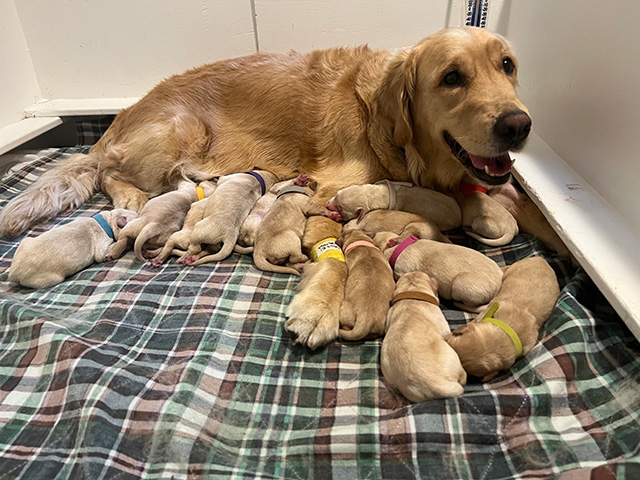 Quince welcomed 13 puppies via c-section on September 9th.
Autumn welcomed 3 small but strong puppies naturally on September 9th. 
DEFYING THE ODDS
This week also has held a couple records for PADS:
SMALL BUT MIGHTY
One of Autumn's three tiny puppies (the wee red girl in the bottom left) is the smallest birthweight puppy we've ever had survive at 160 grams – she is small but MIGHTY!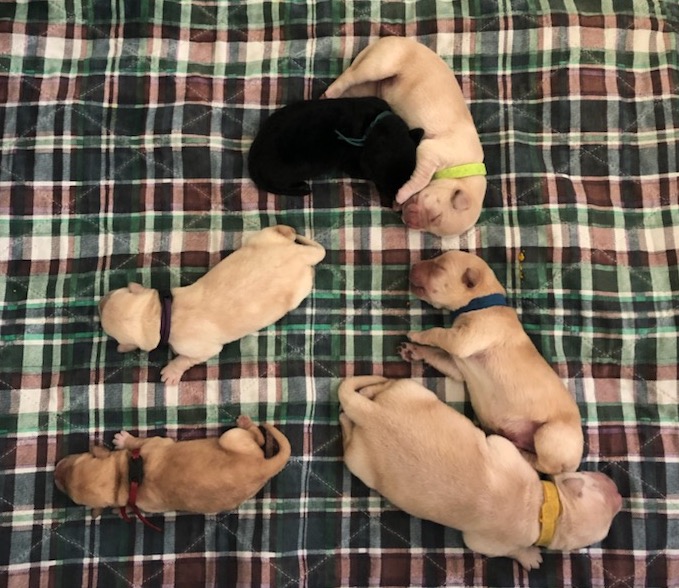 The VAST MULTITUDES
Quince has broken her own record (with the 2018 Thanksgiving Dinner Litter) for PADS' largest litter at 14 (13 surviving); which until now was 12. She previously shared the distinction with PADS Naia (the 2019 Motorcycle Litter).
We are incredibly grateful for our extraordinary volunteers, staff and veterinary teams (particularly our friends at Animal Emergency Clinic of the Fraser Valley) and the safe arrival of 28 future assistance dogs. These pups will go on to change the world in big ways for their partners and the communities they serve.  
ONE OTHER DIFFERENCE YOU WILL NOTICE WITH THESE LITTERS: NO THEMES OR NAMES!?
Those of you that have followed PADS on social media know that after a birth announcement, we typically follow up with an announcement of a litter theme and the names of each puppy.
However, due to the impacts of Covid PADS was unable  to import puppies from other programs (these are typically the puppies that are assigned naming sponsorships), we have some wonderful donors who have been patiently waiting for "their" puppies to arrive. Several weeks ago we made the decision that 3 of these litters would be devoted to our waiting sponsors, which means WE must now wait until they are 8 weeks old in order to know which pups will remain at PADS and retain their names.. 
Quince's litter has been assigned to a full litter sponsorship (stay tuned for details – but these partners will also be waiting until they know which pups will remain at PADS before naming as well.
The big reveals will come with their yellow vested 8 week photos!
PERHAPS THE MOST BEAUTIFUL PART OF THIS WEEK TAKES US BACK TO THE BEGINNING: A MOTHER'S LOVE
Remember how we spoke at the beginning about the biological evolution of dogs – where they cycle together so that they can support each other and rear puppies together?  At the end of a pretty challenging week, we have a heartwarming moment to share which we think highlights the strength of PADS so well, from our volunteers to our donors, to our clients, to our staff, and yes, to our dogs. 
Quince and her family sent off her 3 smallest puppies to the home of Autumn (who was certain she should have more than three in her whelping box!). This brought Autumn's brood of three up to to six, and Quince's monumental litter of thirteen down to ten. This means Quince's smallest pups won't have to compete with ten larger littermates at the milkbar and it will also ease the load on Quince.
Watch the videos below of Autumn meeting "her" new puppies ("midwoof" Tara says to please disregard her rather high pitched chatter with Autumn — we left the audio so you wouldn't miss out on the sweet baby noises). 
HOW YOU CAN HELP
Often when people hear about challenges they ask: "How can I help?" — if that is you, here are a couple options (or even simply share this post):
Donate to the Breeding Program
Help us cover the costs of providing the best veterinary care for our lovely new mommas and babies – be sure to note in the comment field that your donation should be allocated to PADS Medical.
Become a Volunteer Puppy-Raiser
If you have been thinking about joining our volunteer community or know someone who is interested, these beautiful babies will be looking for families to rear them in about 8 weeks.