WELCOME TO PADS OKANAGAN
OKANAGAN PUPPY-RAISING CHAPTER
Welcome a puppy into your home and your life for approximately 18 mos. Raising a PADS puppy means having a furry companion by your side at work, school, the grocery store and wherever else you may go in a day.
Our supporters and sponsors help in a variety of ways, from helping to feed our puppies, building awareness or raising much needed funds for training.  Would you like to get involved with supporting PADS? Contact our Okanagan Team today for more information.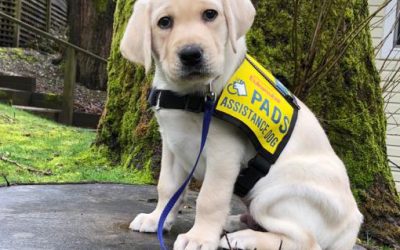 The Special Events Intern organises and coordinates several major events that happen over the summer, with special emphasis on our MOVE Fundraising campaign in July.
read more
May was a lovely month for gardens and blossoms. I practiced my loose leash walking in our neighbourhoods, seeing all the sights. My first driving lesson was going great until I was pulled over for having too many passengers, haha. I also went to my first baseball...
May was a big month for my humans and me. After a trip to the local dog wash, we realized I was experiencing my first heat. My humans made me wear a doggy diaper which I was not a fan of at first, although I got used to it because I am a good girl who likes to please...
May 23 was my 1st year birthday. I am glad to celebrate my birthday with my raiser's family member Stacie! I love the cake and the party. In May, I have a big improvement in getting into elevators! I used to be kind of scared to get in there, especially those...