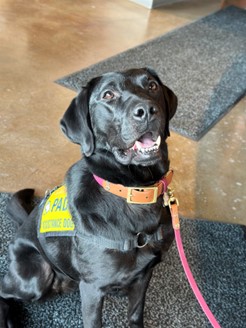 Moriah is having fun while waiting for a client match. She moved in with Gloria and Linda and loves all the walking and working on her sounds in a new house. She did a wonderful job being on her best behaviour during the Calgary PADS graduation watch party, where she met other client dogs, including hearing dog Shale. 
Skills being learned:

 Doorbell alerts, alerting in on beds and couches, timer, fire alarm, phone ringing, keys dropped

Recent field trips:

 PADS Graduation, sitter's workplace

Possible behavior challenges: 

high prey drive, motivated by sights and sounds in her environment

Advanced training location:

 Calgary
Thank you again for all your support of Advanced Dog Moriah!
Submitted by: Miranda, Advanced Trainer & Assessment Coordinator