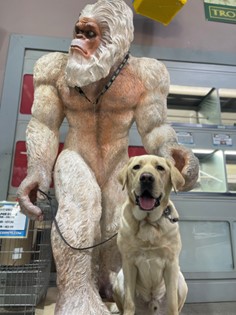 April has been a busy month for Roan! He is really getting into the swing of things in advanced training and has been working hard on service dog skills like retrieving and closing doors. When he is not training, he likes to get the party started with the advanced dog crew and can usually be relied on to grab a toy and bounce around until he can convince a friend to play tug with him.
Skills being learned:

 Movement skills, close, bracing for transfer

Recent field trips:

 Marlborough Mall, Pisces Pets, Off Leash

Possible behavior challenges:

 Excited by other dogs

Advanced training location:

 Calgary
Thank you again for all your support of Advanced Dog Roan!
Submitted by: Miranda, Advanced Trainer & Assessment Coordinator