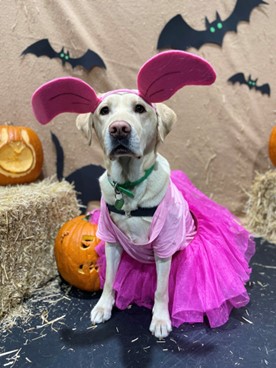 This month's exciting news is that Turbo has completed preplacement testing and is ready to be matched as a service dog. This sweet guy will make a fabulous partner for his future person. In the meantime, we are taking advantage of the warm weather. I am enjoying taking training on the road to places like Marlborough mall. Because our fall has been so fabulous, it hasn't been all work, so there are plenty of play breaks at the off-leash park with his training mates Ranger, Campbell and Moriah.
Skills being learned: 

Alerts to anxiety, body blocking, deep pressure, retrieving

Recent field trips:

 Halloween store, Walmart, Atmosphere, off-leash parks

Possible behavior challenges:

 Nothing specific to note

Advanced training location:

 Calgary

Career path:

 Service Dog
Thank you again for all your support of Advanced Dog Turbo!
Submitted by: Miranda, Apprentice Instructor