Together we can enrich the lives of our fellow Canadians through our incredible assistance dogs! 
From coast to coast, assistance dog schools are calling out the need for more volunteers to help raise puppies as the demand for certified assistance dogs continues to increase.
While we're feeling the challenge here in Canada, it's an issue with global reach. Recently at the AGM in Belgium, Executive Director of Assistance Dogs International, Chris Diefenthaler said that "ADI is looking at this as a very serious issue for our member programs. We have received feedback from a large number of organizations globally that they are struggling to recruit and retain volunteers post-pandemic."
Assistance dogs typically spend the first 12-18 months of their lives living in foster "Puppy-Raising" homes and this is the area of greatest need.
Canadians wanting to make a difference in their community are encouraged to apply via the links below or by making a donation today. 
Pacific Assistance Dogs SOCIETY
NATIONAL SERVICE DOGS
Assistance Dogs International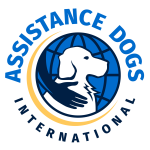 Stronger together
Since inception, NSD has worked in friendship with Pacific Assistance Dogs in BC; sharing breeding dogs, governance and animal welfare best practises.  Together we believe passionately in Canadians helping Canadians.  Please consider joining our teams or making a donation today.   Together we will enrich the lives of our fellow Canadians through our incredible assistance dogs.
Knowing that the puppy I'm raising will one day change the life of someone, is just an amazing reward.
Puppy raising for NSD joins me to such an amazing community. I have met some awesome people through this opportunity.
Ranger is truly amazing in his willingness and love of the job. It's hard to believe we've only been together a short time. He's just incredible!
Pacific Assistance Dogs SOCIETY