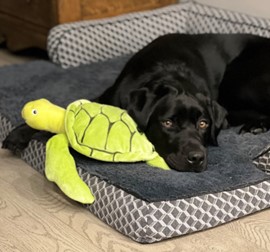 Spring has started to make its way to Calgary's side of the Rockies, and the advanced dog crew is delighted to take advantage of the warmer weather. Turtle focuses on learning new skills for his future career as a service dog. He is learning retrieving, nose targeting to close drawers and cupboards, and rear foot targets to help with tugging doors closed. These are the skills that will help him thrive in his prospective job. Turtle is proving how smart he is by picking up his new skills quickly.
Skills being learned:

 Tugging, retrieving, rear foot target, nose target

Recent field trips:

 PetSmart, Chasin Tails, Breathe Outdoors

Possible behavior challenges:

Vocal/fidgety when the handler is idle

Advanced training location:

 Calgary
Thank you again for all your support of Advanced Dog Turtle!
Submitted by: Miranda, Advanced Trainer & Assessment Coordinator