There are so many reasons to MOVE!
Join us for our second annual MOVE event! 
Walk, roll, run, dance, ride, paddle, swim, jump – whatever way you can MOVE, make it matter! Move in your own backyard, climb a mountain, ride a horse… it's up to you! 
JUNE 26-AUGUST 31, 2021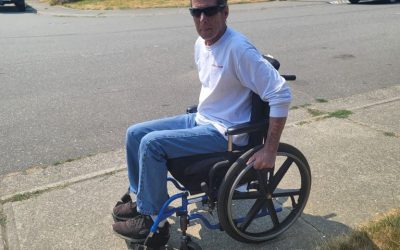 MEET OUR MOVERS: RIC   How they are Moving for PADS Ric is spending all his time while not at work in a wheelchair.  Why they are Moving for PADS "I have had the opportunity to meet many PADS clients and see the benefits of having a service dog help with...
KEY DATES
June 26: Early Bird Registration Opens
July 18: Early Bird Registration Closes
August 1-31: Raise & MOVE!
August 21: A Day of MOVE – Virtual Event
August 31: Last Day for Donations
CORPORATE TEAMS
New this year – register your  Corporate Team! 
Need Help?
Want some more information or need help registering? Watch the video on the right to walk you through the steps of setting up an account and start fundraising! You can also send an email to events@pads.ca if you have any questions!
Getting Started
Thank you so much for registering for MOVE for PADS! We are so grateful that you have joined us. Not sure where to start?! Check out these tips!
Need some Inspiration? Check out our 2020 Movers! 
MEET OUR MOVERS: FLY BY FLINT Why they are Moving for PADS Lindi is MOVING for PADS because: "The reality is that it doesn't just take awesome people to breed, raise and train service dogs, it takes a whole whack of money too.  I believe that a little can go a very...
MEET OUR MOVERS: TEAM FUELING UP THE MYSTERY THE MACHINE How they are Moving for PADS Scooby and Chantelle are going for bike rides together.... and this is not in the most conventional way. Running beside a bike is hard on pups joints, but pulling a trailer with a...
MEET OUR MOVERS: TEAM JASPER & DAVE When asked what PADS means to him Dave writes:   "Jasper and I have been a Certified Assistance PADS Dog Team for over 5 fantastic years now. Our bond and partnership has gone so far beyond any hopes and expectations I had, ...
Media
Tara Doherty
Communications Manager
communications@pads.ca
778.689.5607
Event & SPONSORSHIP
Susie Bakajic
Events & Volunteer Coordinator
events@pads.ca