Raise a puppy.
Change a life.
ABOUT PADS
Pacific Assistance Dogs Society (PADS) breeds, raises and trains fully certified assistance dogs. Our service (mobility & PTSD) and hearing dogs provide life-changing independence to those with physical disabilities other than blindness. Our accredited facility dogs work with community professionals, such as teachers, RCMP and psychologists to help support healthy communities.
In recent days there has been a great deal of discussion in the media surrounding the BCSPCA's recently launched campaign against the use of shock collars.  This is a campaign that PADS supports wholeheartedly, knowing first hand the benefits of using...
read more
PADS is more than 90% volunteer-driven 
we thrive off the passion of the people who have decided to join the PADS Family.
PADS currently runs volunteer programs in the BC Lower Mainland & Okanagan as well as in Calgary, AB., and is a fully accredited member of Assistance Dogs International.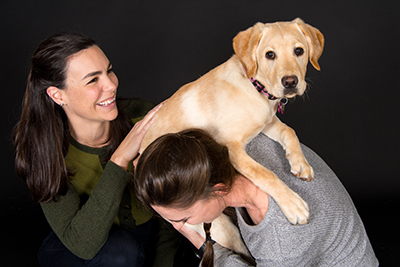 FOLLOW OUR ADVENTURES
Our pups are always adventuring. Follow along each month to see what they're up to and how they are doing!
It's September and that means Hockey Season! Seems like only yesterday my raisers took me to my first hockey game, hard to believe it's been almost seven months. I think my "Go In" space under the chairs has shrunk a bit since last year but I make it work. Everyone is...
read more
Cirque went to Panorama with 2 kids for a little holiday. She did not get much of a chance for off leash and was always on leash and mostly in cape. She was awesome. She went to the pool while the kids swam and ran around screaming and having fun. She was relaxed in...
read more