Raise a puppy.
Change a life.
ABOUT PADS
Pacific Assistance Dogs Society (PADS) breeds, raises and trains fully certified assistance dogs. Our service (mobility & PTSD) and hearing dogs provide life-changing independence to those with physical disabilities other than blindness. Our accredited facility dogs work with community professionals, such as teachers, RCMP and psychologists to help support healthy communities.
#GIVINGTUESDAy SUCCESS THANKS TO YOUR INCREDIBLE SUPPORT WE RAISED $40,368!! Our online fundraiser broke the 21K mark shortly after 11pm last night, this combined with offline donations that came in throughout the day and the $15K in matching funds from our dear...
read more
PADS is more than 90% volunteer-driven 
we thrive off the passion of the people who have decided to join the PADS Family.
PADS currently runs volunteer programs in the BC Lower Mainland & Okanagan as well as in Calgary, AB., and is a fully accredited member of Assistance Dogs International.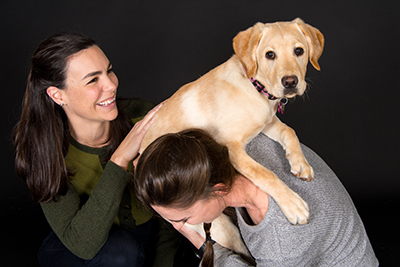 FOLLOW OUR ADVENTURES
Our pups are always adventuring. Follow along each month to see what they're up to and how they are doing!
VALOUR is continuing to hone her "step" skill. She is working on giving eye contact and waiting for the cue before she takes the next step. She is enjoying working on skills like "button" and "open the door" and has improved her paw aim by becoming better at focusing...
read more
MUDGE had no trouble acclimating to snow in the Lower Mainland, as she has much experience with snow weather from trips to Pemberton during puppy raising. She was a great role model for Hero on how to translate obedience skills to the new weather conditions. She loved...
read more