Raise a puppy.
Change a life.
ABOUT PADS
Pacific Assistance Dogs Society (PADS) breeds, raises and trains fully certified assistance dogs. Our service (mobility & PTSD) and hearing dogs provide life-changing independence to those with physical disabilities other than blindness. Our accredited facility dogs work with community professionals, such as teachers, RCMP and psychologists to help support healthy communities.
PADS is seeking an 8 week summer student (37.5 hrs/week) through the Canada Summer Jobs program, Digital Content Specialist,  which is a diverse role designed to effectively support PADS' growth, mission and endeavors. This role requires a person that is a...
read more
PADS is more than 90% volunteer-driven 
we thrive off the passion of the people who have decided to join the PADS Family.
PADS currently runs volunteer programs in the BC Lower Mainland & Okanagan as well as in Calgary, AB., and is a fully accredited member of Assistance Dogs International.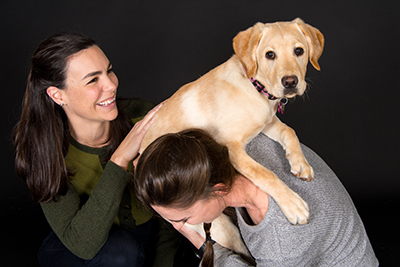 FOLLOW OUR ADVENTURES
Our pups are always adventuring. Follow along each month to see what they're up to and how they are doing!
We are working hard on my basic obedience these days and mom and dad figure I am doing very well, except I still pull on the leash until I get focused. Other dogs, blowing leaves and butterflies are my weakness. I have been to Victoria this month, on the Ferry boat...
read more
We are working on duration and exposing to unusual environment. Our photo this month is rather special as it's a photo of Checkers and a friend after attending a Citizenship Ceremony Submitted by: Shannon Debruyckere
read more